The aims of the Music Curriculum at Clifford Bridge Academy are:
To engage and inspire children to develop a love of music and their talents as musicians
To perform, listen to and appreciate music across a range of historical periods, genres, styles and traditions, including the works of great composers and musicians
To sing, improvise and compose music on their own and with others, and have the opportunity to learn a musical instrument
To understand and explore how music is created, produced and communicated, including through the inter-related elements of music.
Delivering the Music Curriculum at Clifford Bridge Academy:
In Nursery and Reception, children sing songs and rhymes every day. Children learn to perform songs and rhymes alone and with others. They experience dance and learn to listen to different music carefully through regular planned curriculum opportunities.
In the Thematic Curriculum in Years 1-6, Music learning focuses are taught within every theme, with all themes containing one Music focus and Arts-driver themes containing two. Learning experiences cover five key disciplines of Music and progression in skills in these disciplines is supported through a Music Strand Tracker which identifies age-related expectations for each discipline:
Singing
Improvising & Composing
Playing & Performing
Listening
Appreciation
Music learning focuses include Bhangra and playground songs/rhymes in Key Stage 1, music from America and Ska music in Lower Key Stage 2, and music from the 1960s and composing a song in Upper Key Stage 2.
Additional learning experiences are provided beyond the Thematic Curriculum where children can further develop their knowledge and skills in Music. These include a regular singing assembly, instrument lessons and clubs such as choir and our school band. Children have opportunities to take part in local cross-school events including Morning of Music, as well as larger-scale events such as Young Voices too.
Music beyond the curriculum? Music enrichment?
Music is a massive part of what makes Clifford Bridge special. Beyond the music curriculum taught during the school day, there are opportunities for children to participate in musical activities after school, leading to performances at school and to audiences in the wider community.
Clifford's Choir
Clifford have had a long history of having large and enthusiastic choirs and 2022-23 is no exception. Choir practice takes place after school on Thursdays and over 60 children from Years 3, 4, 5, and 6 come every week. There are no auditions for the choir – everyone can sing and everyone is welcome. While singing is fun in itself and is amazing for the children's and teachers' wellbeing, the choir is always working towards a range of performances. Each year Clifford's Choir attends Young Voices at the NEC in Birmingham. This is an opportunity for children to sing as part of a massed children's choir with 6000 other children alongside professional musicians to back them. Closer to home, they sang at Clifford's 50th Anniversary School Fair, took part in Blue Coast School's Black History Month concert and are returning to Blue Coat in February to sing with the choirs of Walsgrave and Whittle to reprise some Young Voices favourites. At the end of year, they will be busy again, singing at Clifford's Summer Music Extravaganza!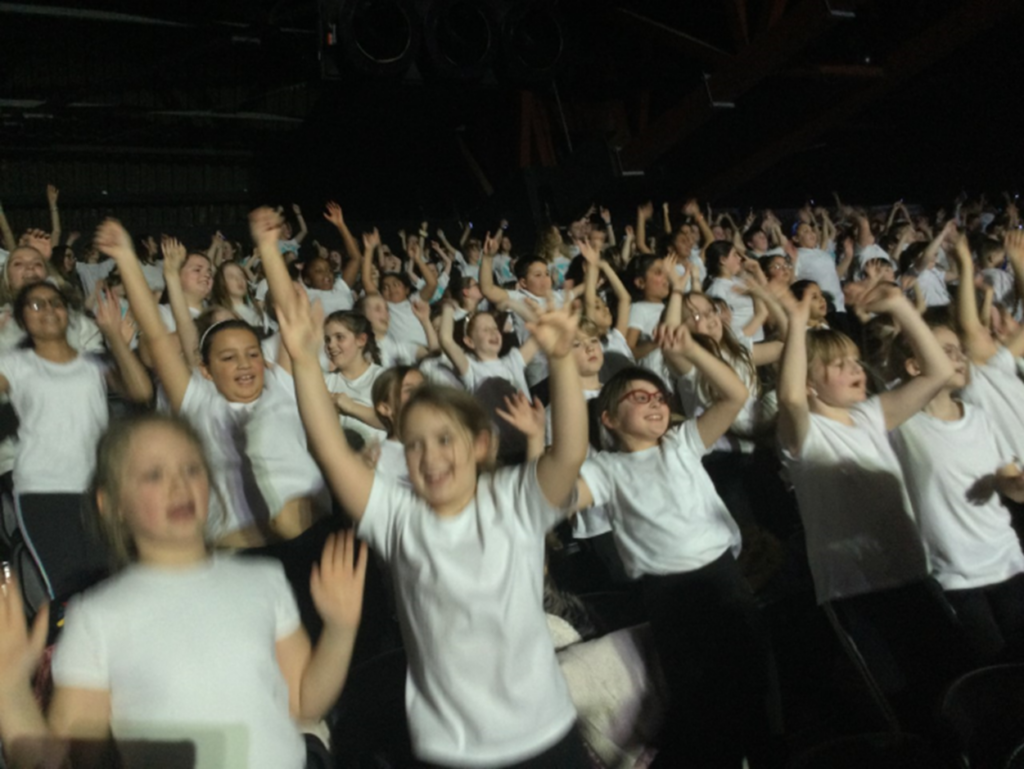 Take It To The Bridge
Clifford Bridge are very lucky to have their own rock band, Take It To The Bridge'. The band began in 2014 and before long was playing in school assemblies every Friday as part of the celebration of children's achievements in Clifford's Merit Assembly. The band has gone from playing simple 2 chord songs, to playing rock and pop songs that all of the children at Clifford Bridge know. They have played at The Belgrade, The Coal Vaults, The Royal Spa Centre, The School Games Finals Opening Ceremony, Glastonbluey at Blue Coat School, as well as playing 4 schools in a day in their World Tour of Coventry! During the COVID lockdowns, their performances were recorded and shared in online assemblies.
Auditions are held each year in September; in 2022, over 80 children auditioned to be in the band. Auditions took place over 4 lunchtimes, so that everyone who wanted to audition had time to. This year we have 2 drummers, 2 bassists, 2 pianists, 3 guitarists and 5 singers. Once children are in Take It To The Bridge, they can stay in the band until they leave Clifford Bridge. This enables the older children to mentor the younger ones, improving everyone's musicianship. Ex-pupils often return to help too, passing on their knowledge to the next generation.
A band allows children to apply their musical skills in a real context and be part of something bigger; it is a shining example of the whole being greater than the sum of its parts.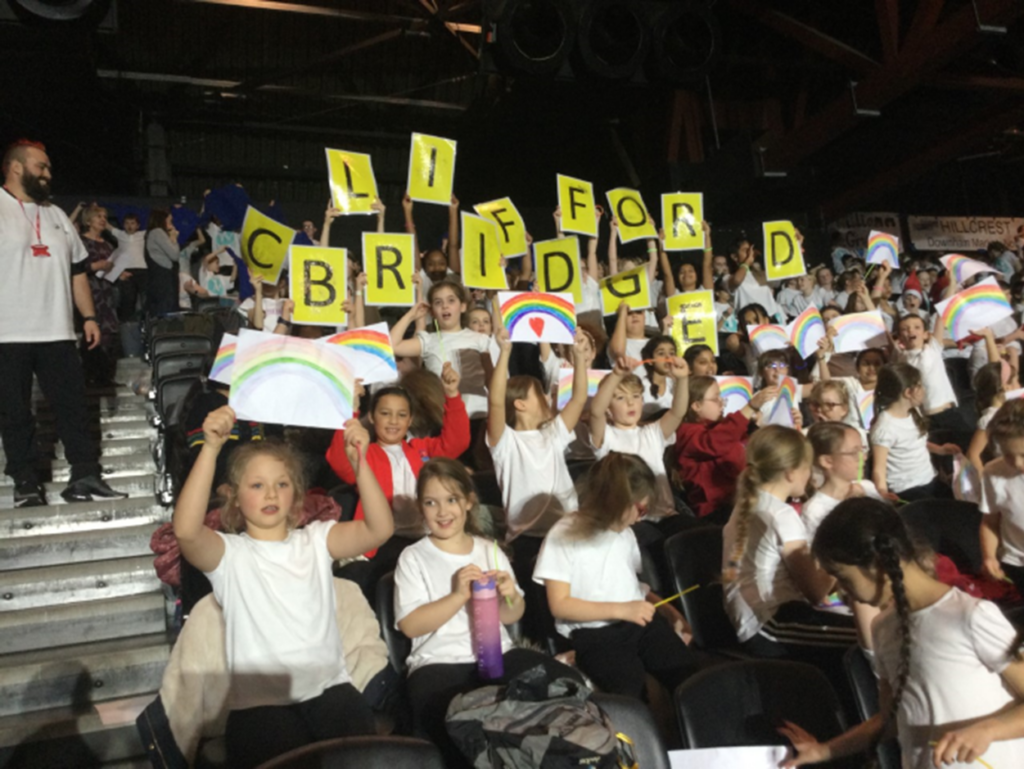 Summer Music Extravaganza
At the end of every school year, we celebrate all of our children's musical talents with our Summer Music Extravaganza. Not only do Clifford's Choir and Take It To The Bridge take part, but children who learn musical instruments with our guitar and drums teacher Mr. Ingram and piano teacher Mrs. Leigh have the opportunity to play individually or as part of an ensemble to a live audience. Past pupils often return to perform too, giving current pupils the opportunity to see where music could take them when they leave Clifford Bridge. Clifford's Staff always take part too; it is important that the children see their teachers being brave enough to perform too!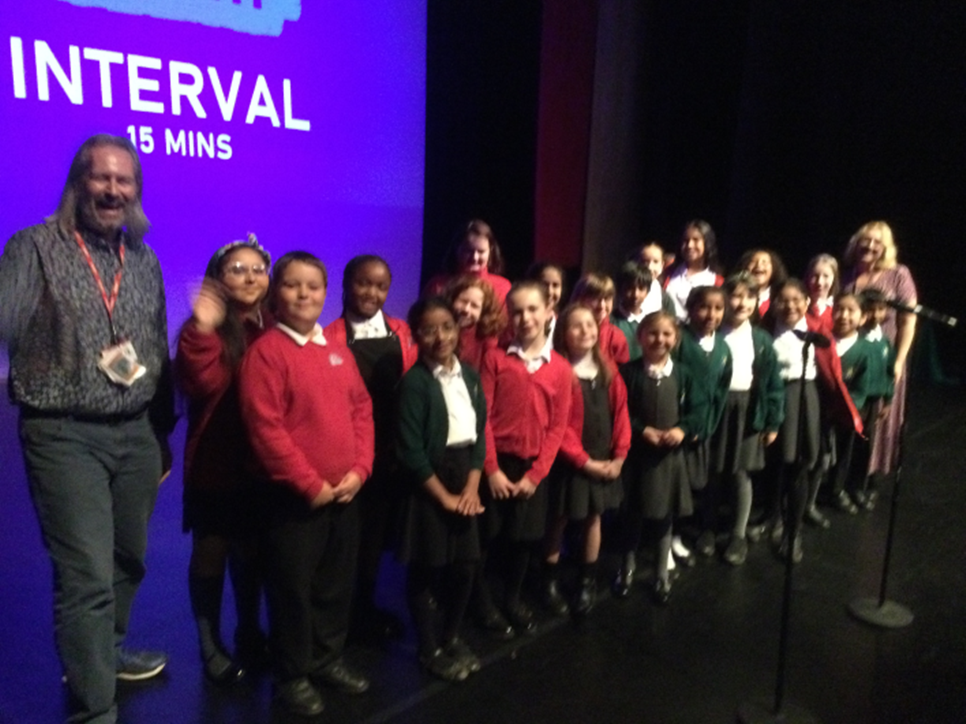 Take It To The Bridge Video
Here is a video covering from the bands first recording until now,